Storyteller's report!
David has asked me to write a little "something" to keep you all going for the time being.
Christmas is fast approaching and the Editor (yours truly) is busy thinking of new and innovative festive bits and pieces for the site. This is why there have been few additions in past weeks (yes, I CAN multitask, but prefer not to!). WATCH THIS SPACE!
!
News from the Editor and Resource Manager!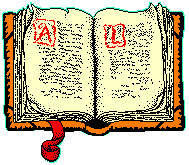 Click on book for "Life in Ancient Times" - a selection of "diaries" written by two groups of Stonemasons - well worth a look!
A new idea for you here - introducing how text can change an image - a small PowerPoint Presentation to show your students
New!!! All singing, all dancing Powerpoint Presentation introducing Apostrophes!!

Click here for basic Presentation (music removed from this version - too heavy!)
All singing, alll dancing apostrophes here
Some new links for you this week - one in English - build a shuttle and space station by answering "word" questions correctly. The second link is under Humanities and involves mysteries which, when solved, provide lots of information and the third is in General - sorry, but Halloween is on its way, so why not create your own pumpkin?
and check out the Legends page for your dilectation!